Artist: Lizzie King and Craig Tattersall
Title: Allerton to New Adelphi
Year: 2015
Medium: C-Type Print of 24 8"X 10" Original Silver Gelatin Prints
Dimensions: 822 x 1685mm
Accession Number: US2015-13d
Acquisition info:
Lizzie King & Craig Tattersall work collaboratively with an emphasis on creating work using analogue photographic techniques, often making work that speaks about the process. Within their artwork there is a strong interest in ephemerality and erasure through repetition. The work tends to acknowledge and reflect upon imperfections and flaws. Through micro detail and emphasis these are brought to the forefront challenging modern ideals of perfection in a digital age.  The artists work responsively to the processes they deal with, working with its limitations, not looking to control the process but allow the process to communicate.
Allerton to New Adelphi was a commission for The University of Salford of four C-Type prints from multiple original 8X10″ Silver Gelatin Negatives, depicting the transition of the University's art facilities from Allerton Studios to the New Adelphi building.
Allerton Studios, Hallway and Studios are three 822 x 1685mm prints taken with a handmade large analogue camera built by the artists.  New Adelphi Taken by Allerton is a 2346 x 1076mm print created by turning a room in Allerton building into a camera, projecting the new building into the old, and taking a large negative. The print depicts the construction of New Adelphi and shows it in its place within Salford and into Manchester.
Artists' website: https://cargocollective.com/lightspills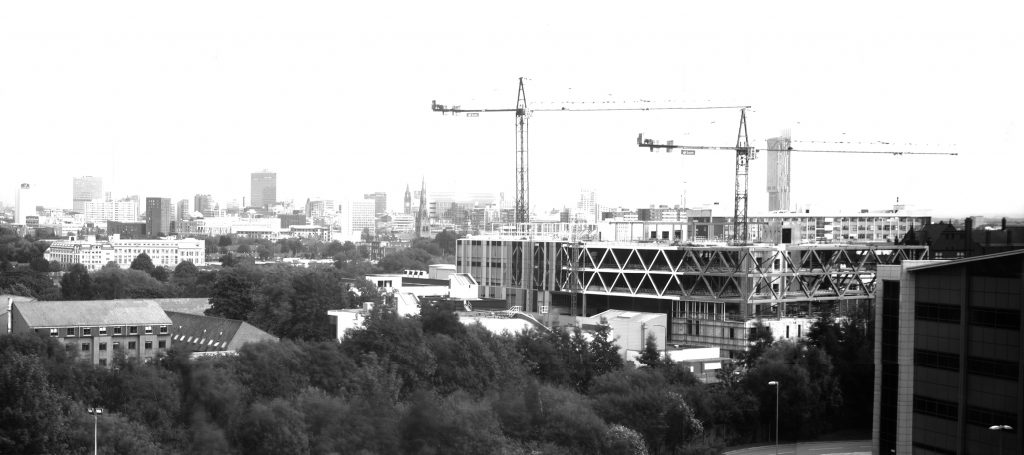 Lizzie King and Craig Tattersall, from left to right: Allerton Studios, Hallway and on bottom: New Adelphi Taken by Allerton. Images courtesy of the artists.